The Big Kill...Part I
So...I've been slowly uploading my photos to photbucket...
The only problem is...well...
I'm running out of space.
So I'll give you as much of my trek as I can. I had a blast...time of my life...really...truely.
Many of these shots are photo studies. Street scenes because I'll be doing a NY series in Anywhere But Here in about a year or so. So just bare with me if I just say "HEY, SOME RANDOM PEOPLE WALKING DOWN THE STREET."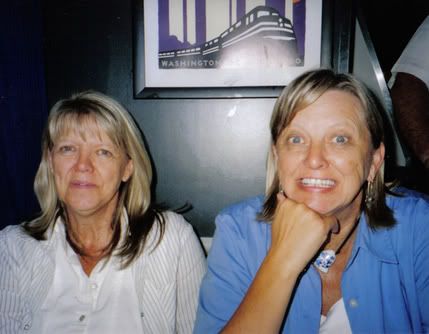 This is Julie and Barb, a pair fo sisters. Julie was from...singapore if I remember correctly, Barb was a teacher in Seattle. I had breakfast with them on the way to Chicago. They were traveling cross country from Seattle to Chicago, and loved trains. LOVED them, they had taken trains in Europe, in Asia...and said nothing could beat them. I cant really argue with them.
This was our porter Deane, yes, that's how it's spelt. Had the greatest stories...real talkative guy. He was wrapping up the FIRST leg of his shift...which consisted of a trip from Seattle to Chicago, and then BACK from Chicago to Seattle. Eiht days on, two days off. Quite the life.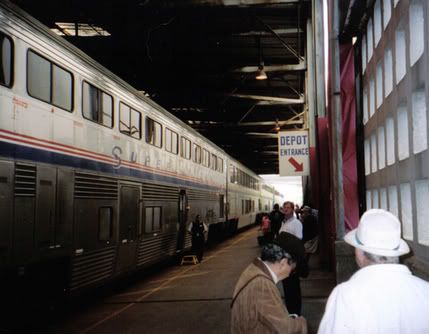 Milwakee Wisconsin station. I spent some time in the sleepy little town of Milwakee in 1997 when I was marching with the Pioneer Drum and Bugle Corps. Couldn't stop there and NOT take at least ONE pic.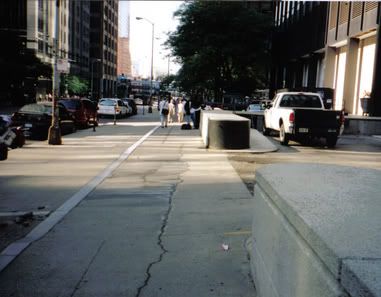 This is my first shot of Chicago, right out of Union Station. Chicago is a very "new" city to me. The buildings are shiney glass constructions that reflect far too much of the midwestern sky.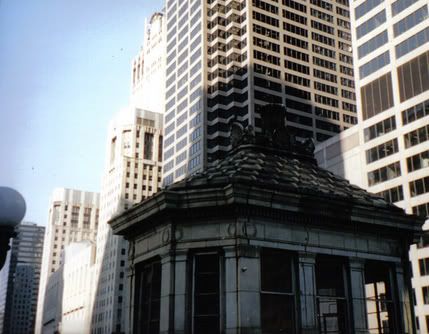 One of the...I have no idea what it is actually. Guard towers? There are little booths that line the bridges that cross the river in downtown Chicago. Honestly, I love their look.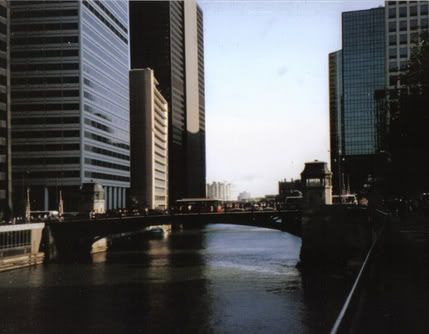 What I loved about the "downtown" area of Chicago is the river...how the town is sliced apart in by this winding green ribbon. And the river...it's really green. It was unusual for me to see that. North Dakota rives are brown from the silt. Chicago rivers are green from the polution...I kid I kid.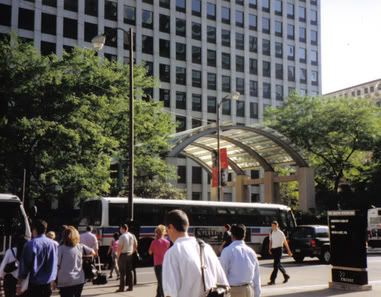 Yet another shot of Union Station.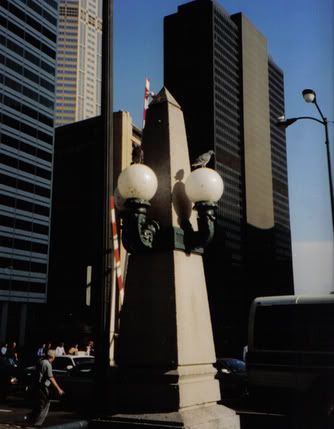 A lamppost caught my eye. Old stuff like this ...or at least stuff that LOOKS like old stuff like this always interests me.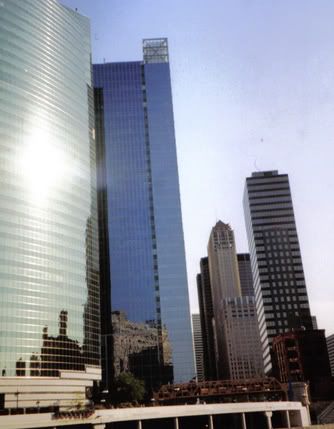 A shot from the river front looking into the belly of the beast.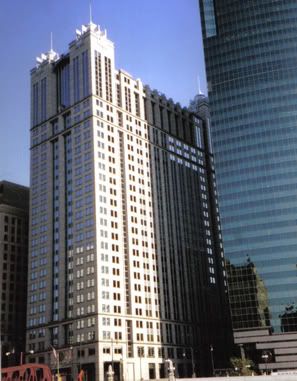 No clue what this building is, but it sure does make for a nice composition.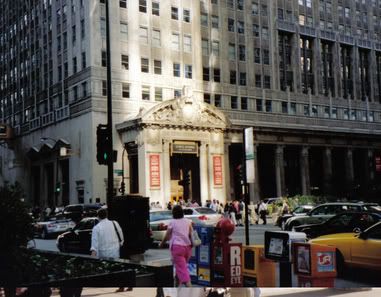 More old stuff for me to look at and go "oooooooh". Really I think I probibly was born a good 70's to late.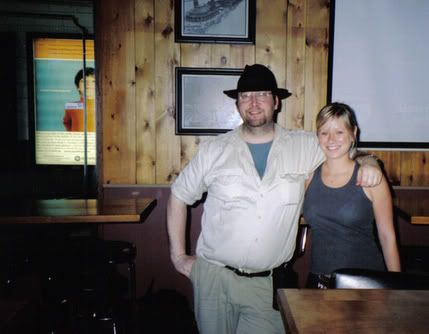 While I was wandering around downtown Chicago, I was looking for a little bit to eat. I found this great little bar and grill called "Around The Corner" which is...ironically, around the corner from Union Station. This is my waitress Beth...who..ironically enough...is married to a Jason.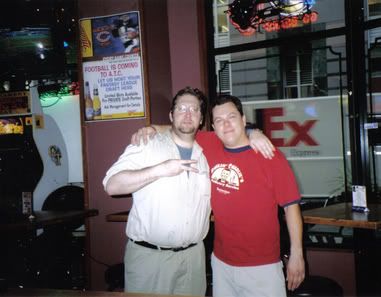 That's Mike, the owner of Around the Corner. Around the corner makes the BEST sandwitches in the world. PERIOD. I had a sausage pepper and egg sandwitch that was just dripping with cheese. Best sammy EVER.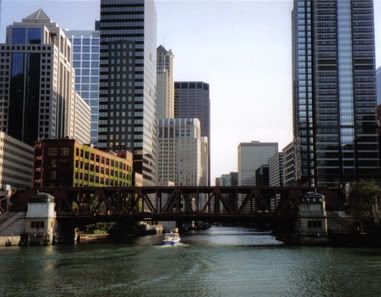 Yet another bridge over a river...yeah I know, it's kinda boring, but I like it.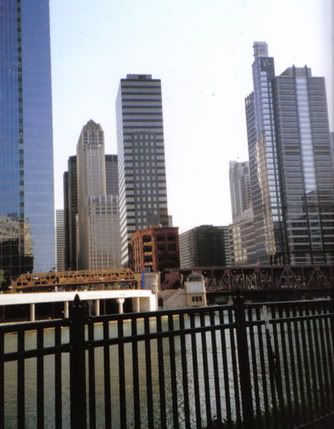 Mark my words, this will be appearing in one of my strips before it's all said and done.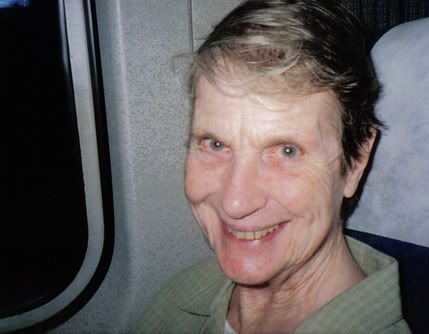 When I left Chicago for NYC I had the pleasure of sitting with Sister Rosemary Hayes S.H.C.S. She was just getting back into the states after doing some ministry work in Africa (provided I remember things correctly.) This is why I love trains. When are you ever going to get a chance to say you slept with a nun?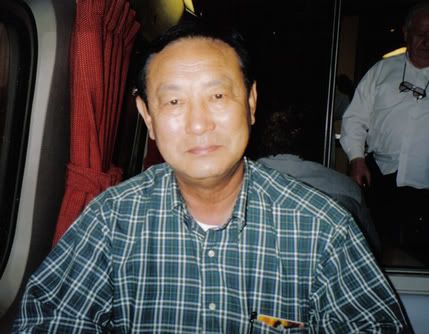 This is Yung Lee, he was making a cross contential trek on train from Los Angles to BOSTON. Five days to see the country from the comfort of a coach car.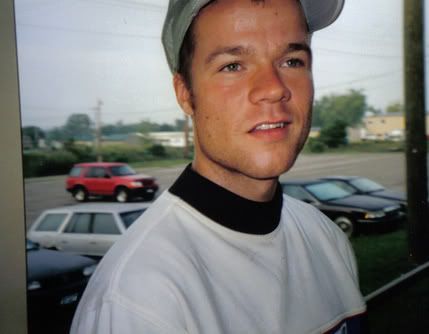 Levi was from Iceland, vacationing in Mexico. He had to take a train from Mexico to Chicago in order to get to his plane in New York City. Dude bummed a smoke off of me in Rochester.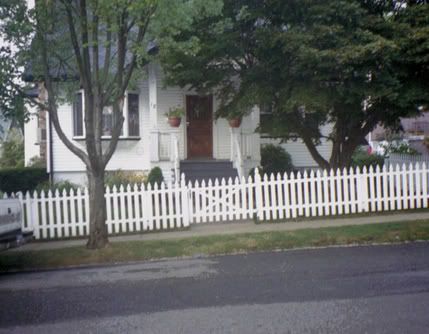 This is the Mingemni Bed and Breakfast...more or less. The Mingemni's are a Staten Island couple that I've gotten to know quite well through the Drum and Bugle Corps activity. It was my frist time meeting them in person. That's what you're dealing with in drum corps...CRAZY ASS MOTHERFUCKERS.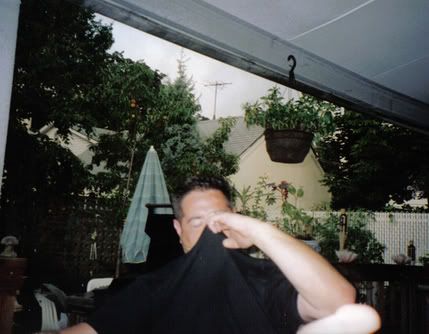 Speaking of which...that's Chris.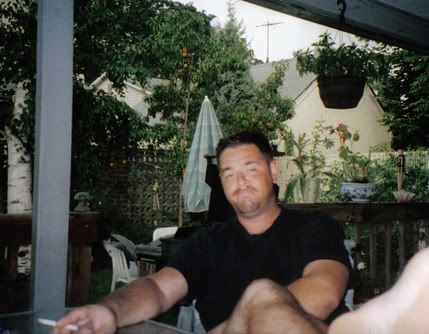 And Chris from a much better angle when he's not smelling himself.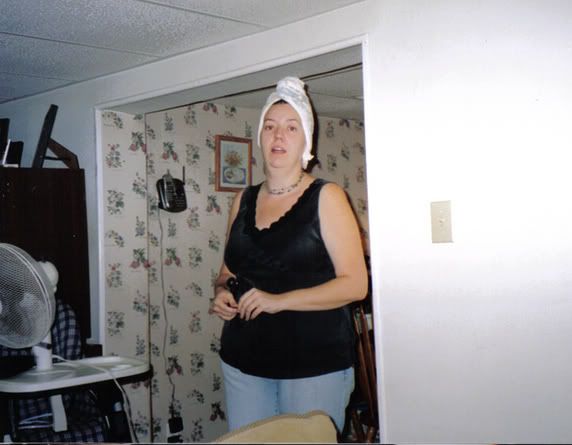 And that's his lovely wife Terri.
And this is me. Us North Dakotan's don't get that excited. That was my way of saying "HOLEY FUCKING SHIT I'M HALF WAY ACROSS THE FRIGGIN UNITED STATES STAYING WITH PEOPLE I BARELY KNOW IN THE CITY THAT NEVER SLEEPS! WOW, FUCKING UN-FUCKING-BELEIVABLE!!!"
Yeah, that was about as excited I get on the outside. What can I say, I'm one smooth mother fucker.
Various shots of NYC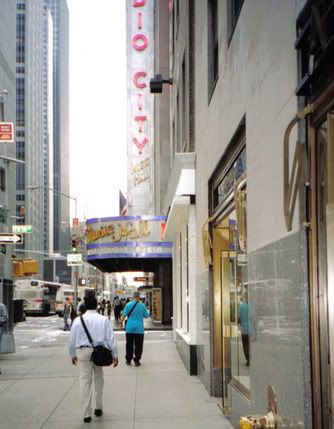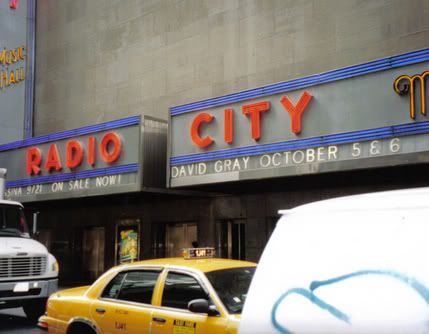 Radio City Music Hall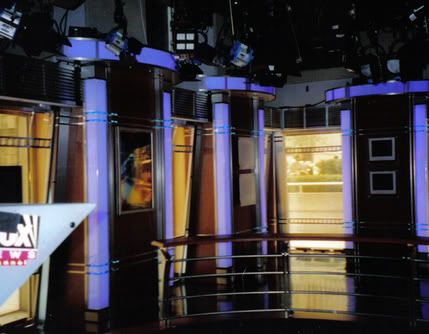 Fox News Studios..funny thing happend at Fox News Studios. I ran into Paul Reiser and Peter Falk. Chris, who works for Fox, tried to get my picture taken with the two of them.
Paul Reiser declined. I guess that time off from Mad About You really damped his spirits. I wasn't to depressed about that, but missing a chance to get my pic taken with Collumbo himself...well..that kinda irked me.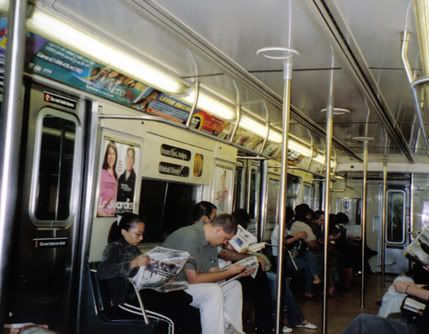 The NY Subway...I'm such a tourist.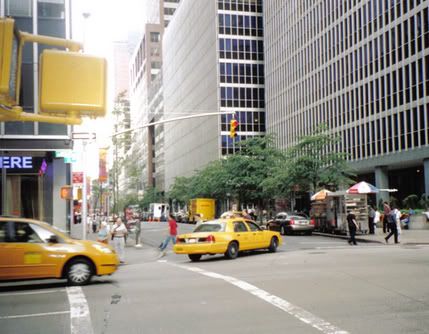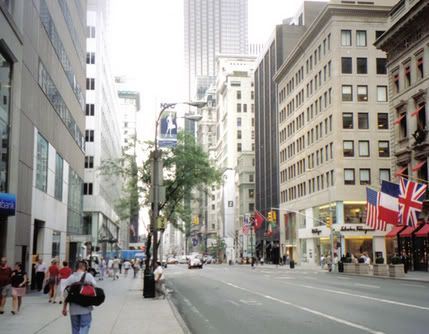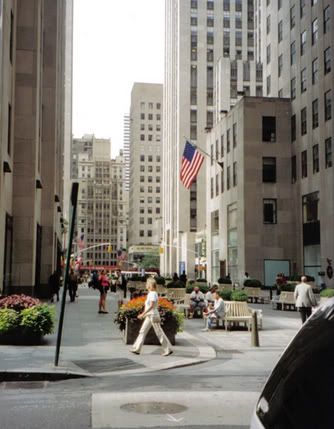 RANDOM STREET SCENE! Yes, part of this trip was to take a number of shots for referance work on a story line that will be running in a year and a half.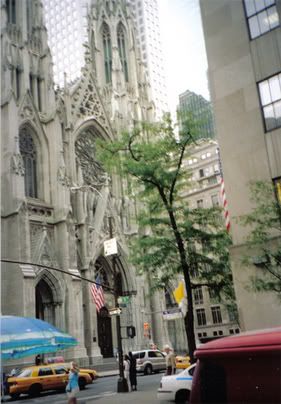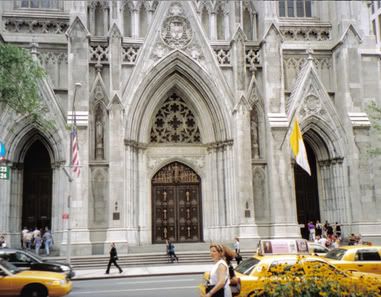 St. Pat's Cathedral. I didn't take any shots from inside the Cathedral..something in my Catholic upbringing just won't let me take pics INSIDE of a church. I find it...I don't know...disrecpectfull. Bloody friggin Catholic upbringing.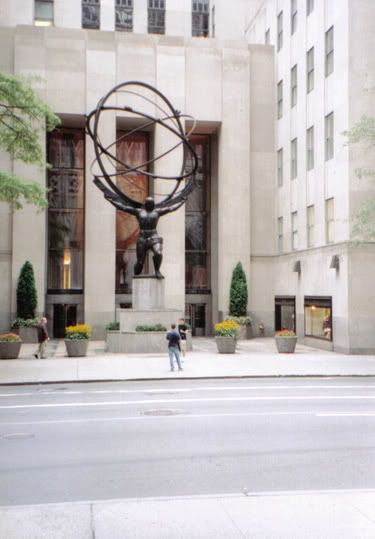 Across the street from Pats is this great art deco statue of Atlas. This is why I love NYC. I LOVE art Deco, and NYC is CRAWLING with it.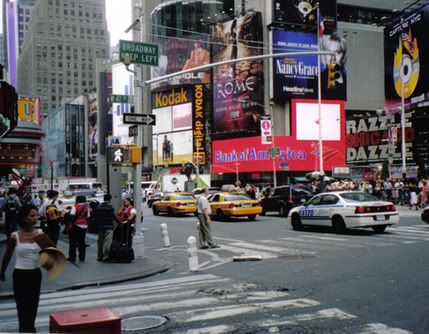 Give my regards to Broadway..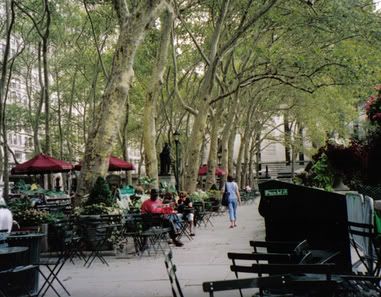 Bryant Park. New York has Sycamore trees...I've NEVER seen a Sycamore tree. They cant survive in North Dakota...it's just to bloody cold for them. So seeing groves and groves of them was...well...really pretty cool.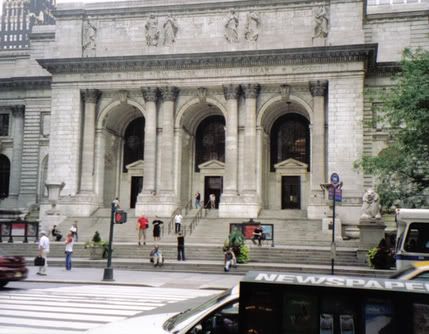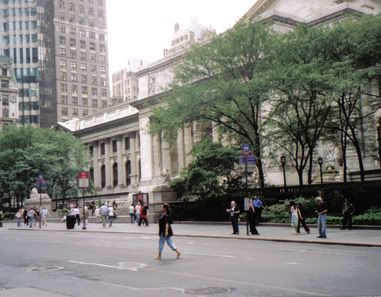 The New York Public Library...I had to get shots of this because I bloody LOVE Ghostbusters. I didn't, however, get a chance to run down the front steps screaming, like I always wanted to.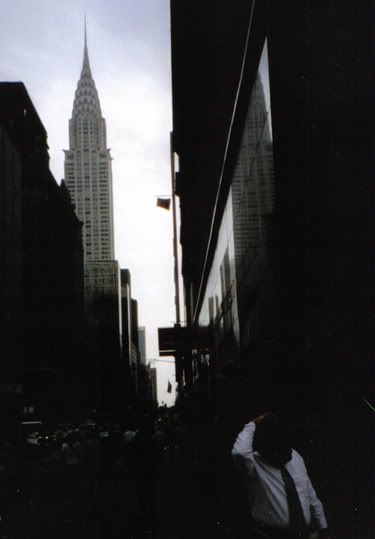 I love this shot...I LOVE this shot, second favorite shot of my entire trip.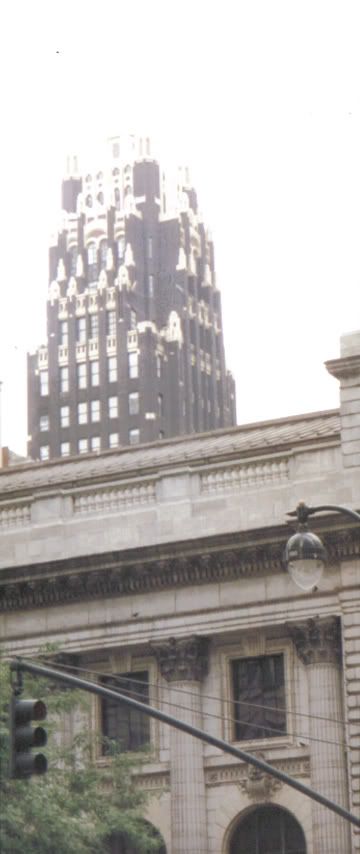 Very cool building, very shitty pic of it...I need a digital rebel.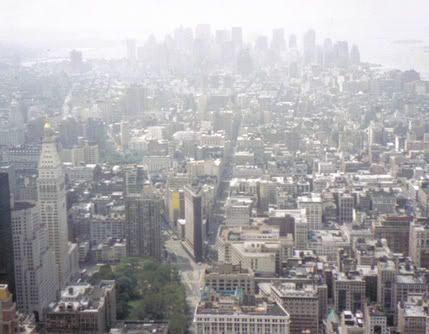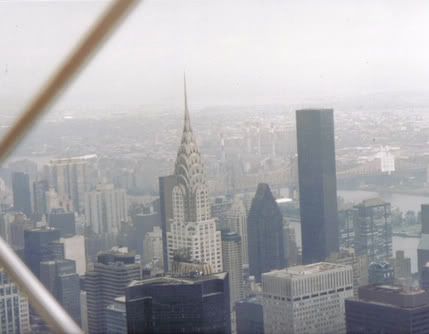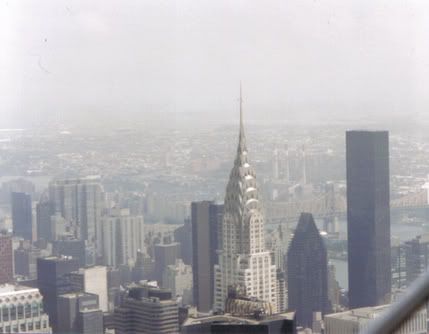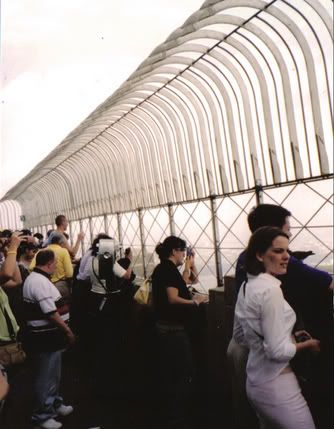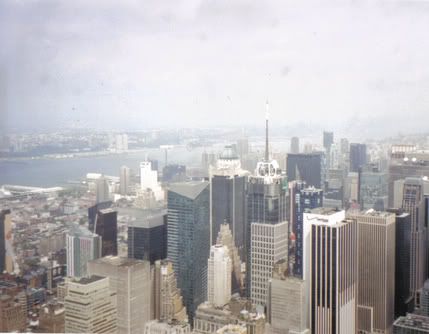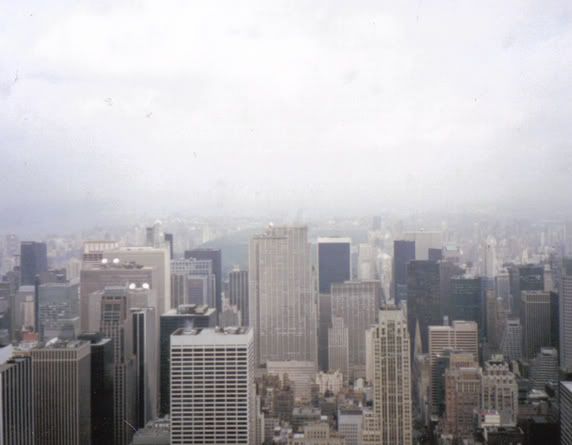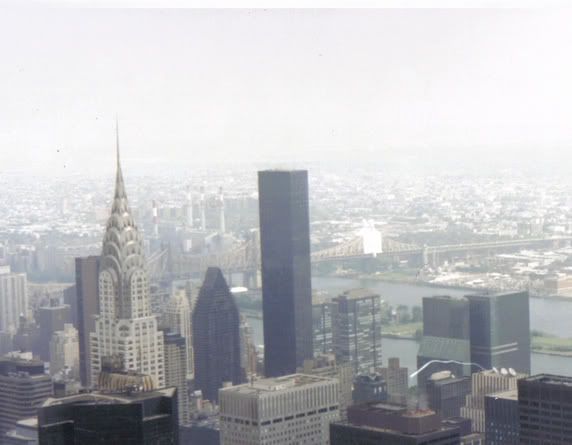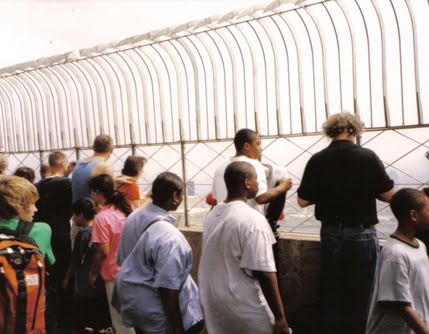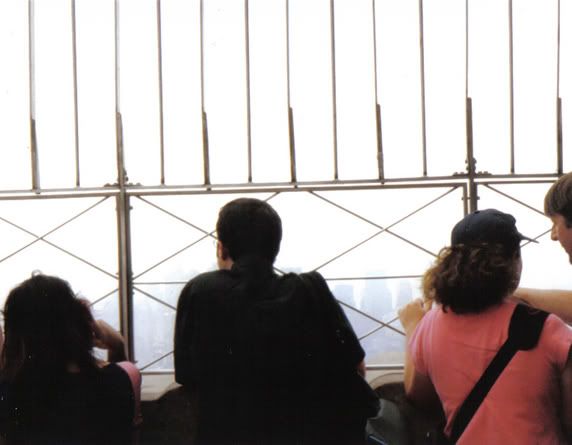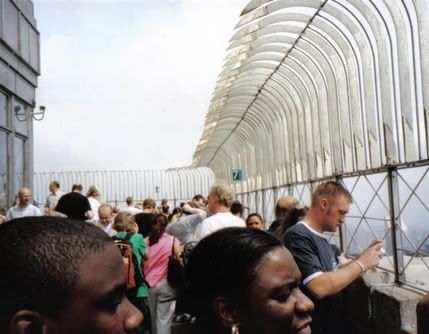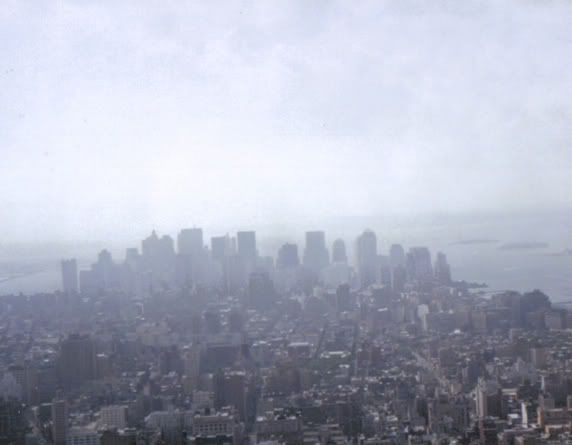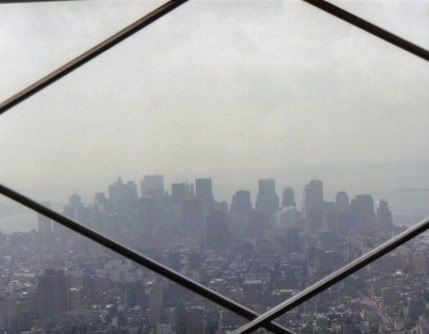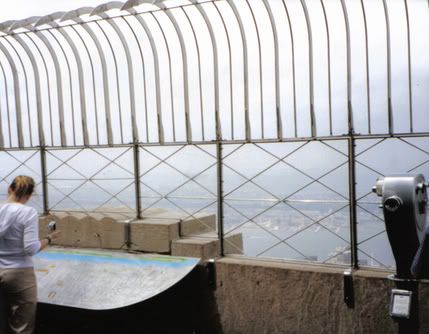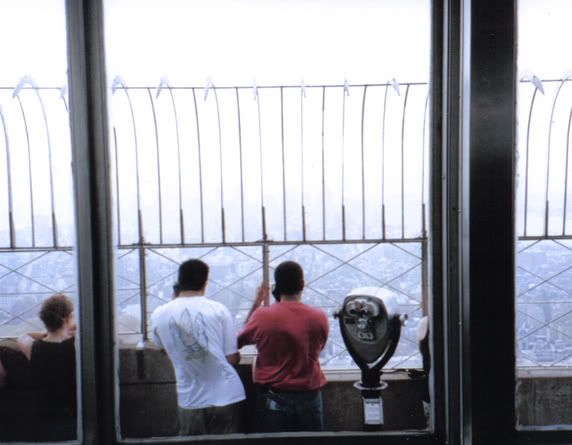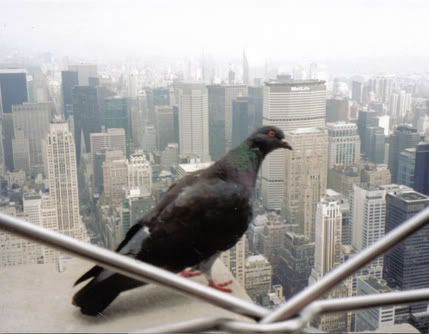 LOTS of shots from the top of the Empire State Building. Again, I was looking for referance pics...but I loved the view from the top...and speaking of a view from the top...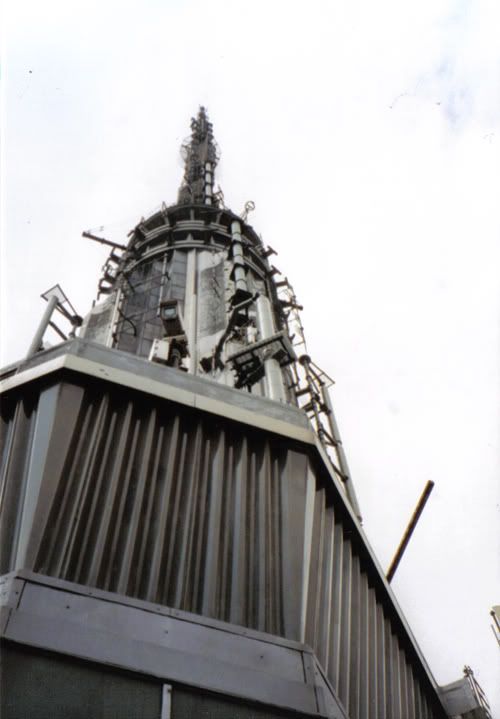 That would be the top.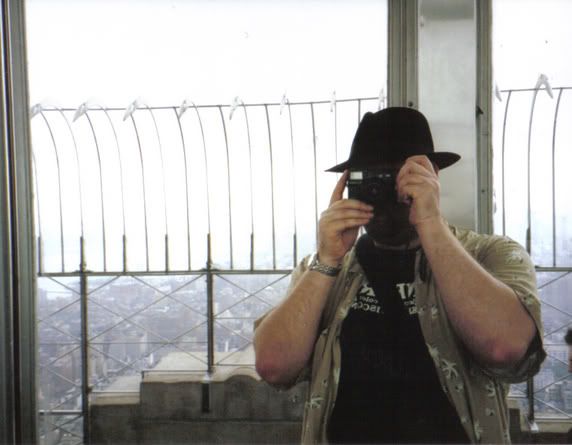 And one obligory photo of me from the top of the world...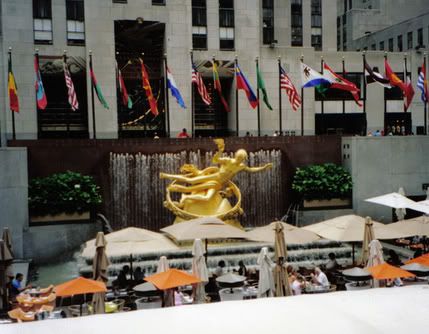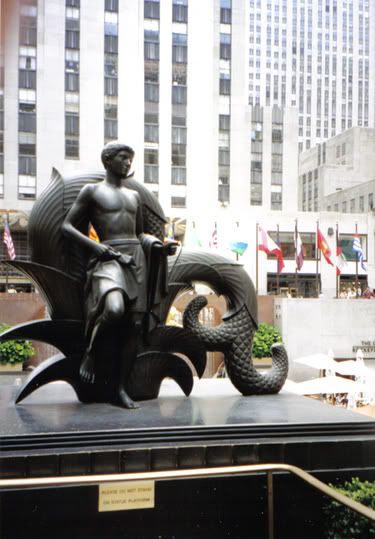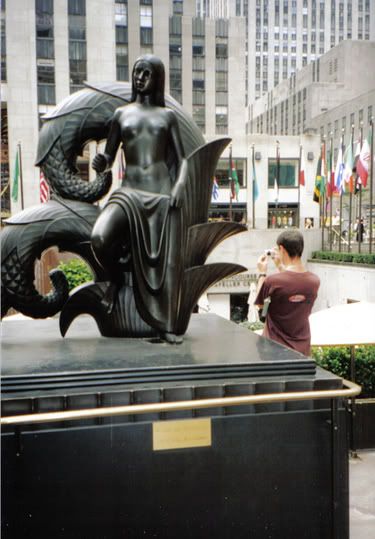 Remember my love for Art Deco? Rocafeller Square is FULL of it...God I love that, probibly my favorite place in all NYC.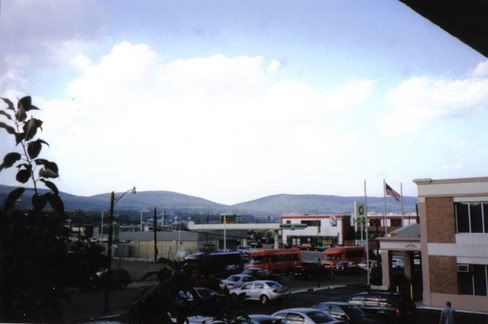 Shot from Scranton PA. Spent three days there. There are some absolutly BREATHTAKING views driving through there...unfortunatly I didn't get a ONE of them to turn out.
I NEED a digital Rebel.
And now we come to the reason for my trip...Drum Corps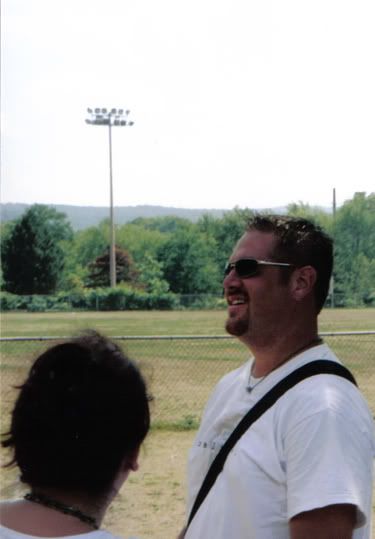 Chris, my brother in arms, at a rehearsal for his drum corps The Bushwackers.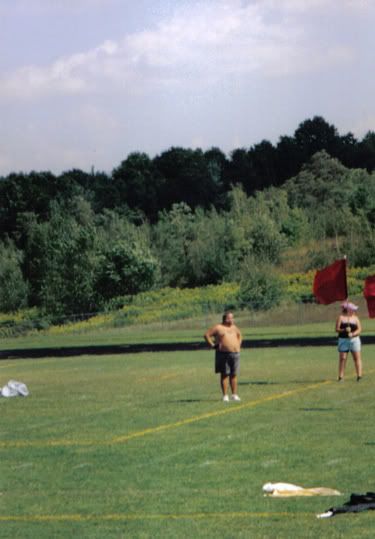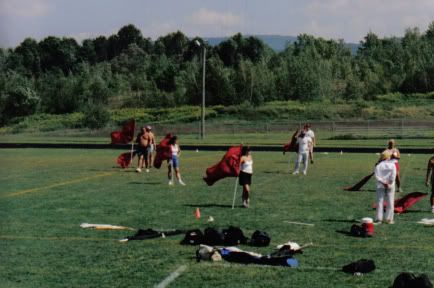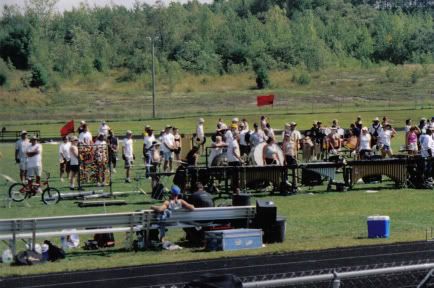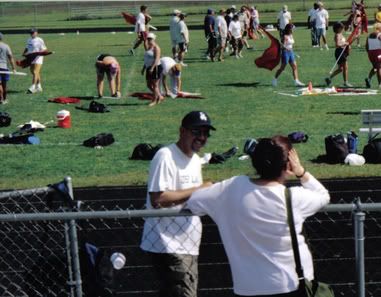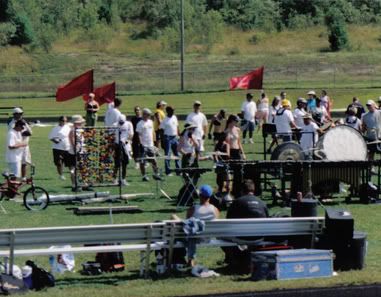 The San Fransisco Renegades, so Evil they're Good.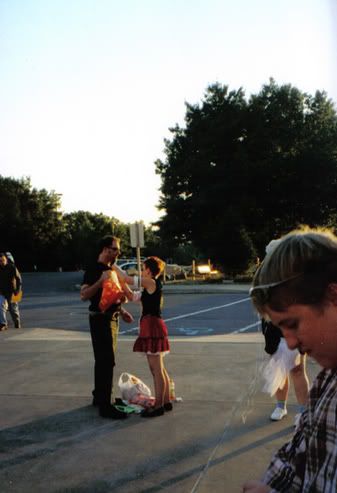 Some really cute chick in a St. Pauley's Girl outfit.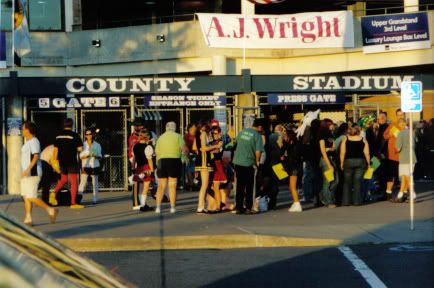 It's like Christmas at Ground Zero...Crunchy Frog the Prelude.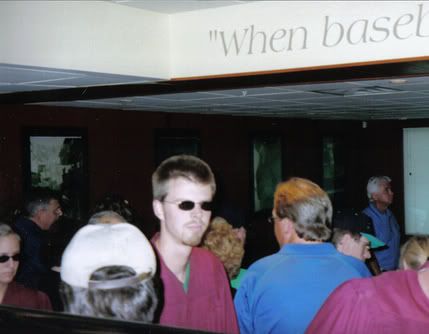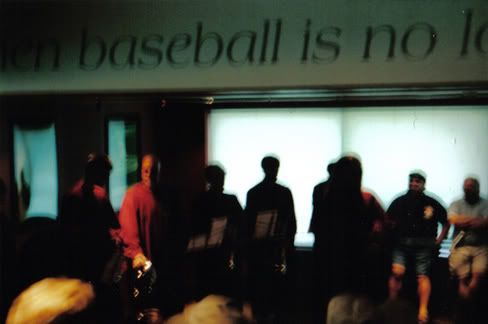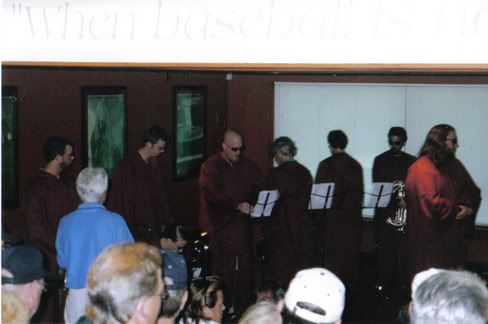 The Govenaires Brass Ensemble from St. Peter Minnesota. Govies have always looked after me and mine.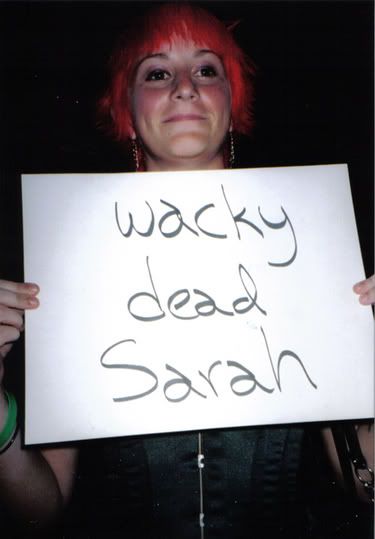 No words can do this picture justice.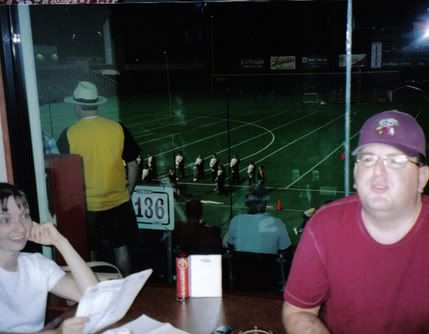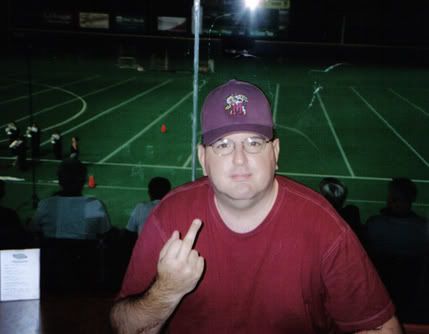 A good friend of mine, Mr. Jeff Ream, showing me "the love" as he puts it.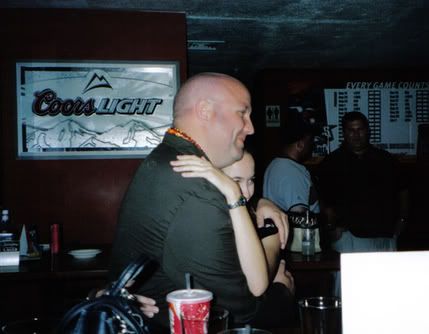 That's Geoff, grade "A" Coozehound. Mans from Vegas...and he knows his game.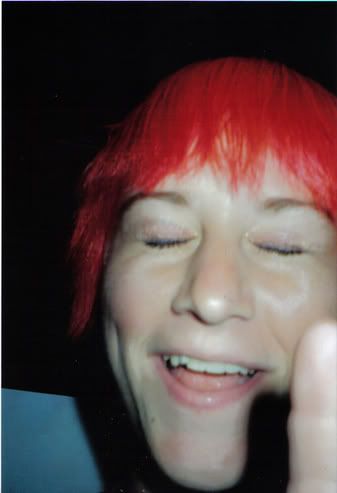 Something about people with hair from the Fifth Element that forces me to take their picture.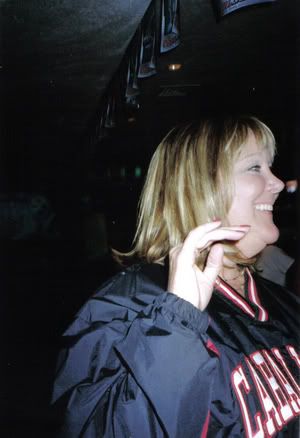 This is Linda...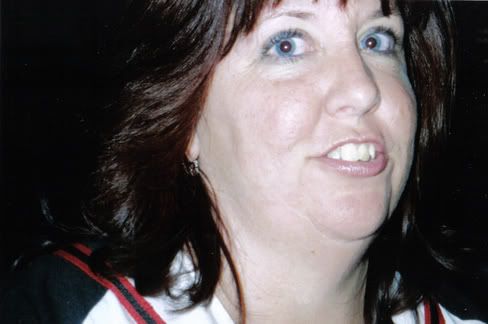 This is Kay...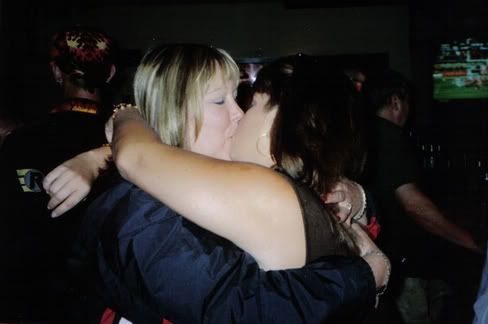 This is Linda and another friend of mine Liz, they're just friends....don't belive me?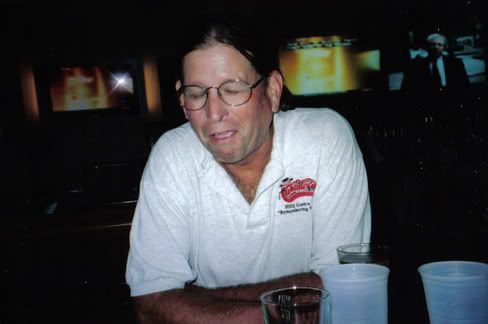 That's Linda's Husband.
Part two to come tomorrow.